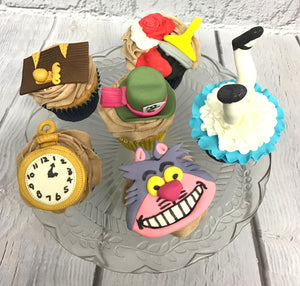 Alice in Wonderland Cupcakes Workshop Wednesday 6th September 2023
The Outrageous Cake Company
Regular price £65.00 Save!
Wednesday 6th September 2023

Our cupcake sessions run throughout the year, come along a learn a new skill whilst having some fun with sugar crafting! 

Learn to decorate 6 cupcakes in the style of Alice in Wonderland. 
You will be making
Alice ,Cheshire cat, Gold watch, Door, top hat and painting the roses red.

We like to have fun with the seasonality and themes, so each session there is something new to make. If you want to know exactly what is planned for the month please give us a call :) 
Class Duration: 4 hours 
10am - 2pm 
Cost £65. Per person
Bring your own lunch, but Tea/coffee and cake available .
For more information please contact us. 
Please note there is a limited amount of spaces available for our workshops, so booking is essential to avoid disappointment.