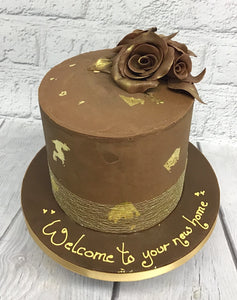 Sharp Edged Belgian Chocolate Ganache Cake Workshop Sunday 22nd October 2023
The Outrageous Cake Company
Regular price £110.00 Save!
 Sharp edged Belgian Chocolate Ganache Cake Workshop 
Sunday 22nd October 2023
Class duration approximately 4-5hrs
Start time 10.30pm
Cost £110.00
Skill level beginner / Improver
Using Belgian Chocolate Ganache, this is a workshop designed to show how to make this modern aspect of cake decorating.
You will learn:
About chocolate Ganache, talking and demonstrating the making of Dark, Milk, and White Chocolate Ganache
How to make chocolate modelling paste
How to tort, fill, and prepare a tall cake for decorating
Achieve a sharp edge to your cake.
Make a modelling chocolate rose for decoration
How to use edible gold leaf
Add those finishing touches and present a professional finish to your cake
Talk about alternative suggestion on how to finish your cake in the future.
What's included
You will receive a round cake for decorating including any boards/drums and a box to take the finished cake home in. All Chocolate products are included. We will supply all the equipment you need including an apron so you don't have to worry about anything just turn up and have a fun time while learning a skill.