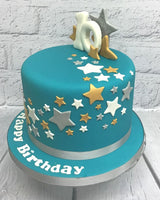 We Create Bespoke Cakes
No cake is too outrageous for us here at The Outrageous Cake Company, you can see for yourselves on our gallery page. We strive for quality but also quirkiness, bringing ideas to life in cake form and creating WOW moments. Talk to us about your cake idea, for parties, weddings, baby showers and every occasion in-between. We run workshops throughout the year, covering a range of topics, in which we guide you step by step and you can learn new skills along the way. Click our contact page if you want to get in touch, or come and see us!
Shop Now
Our Next Workshop
Sunday 5th November 2023
Trio of Unicorns
Class Duration: 2 - 3 hours 
10am - 12ish
Cost £45. Per person
Really cute trio of unicorns. Learn how to make them in different positions for you cakes.
We provide everything you will need to make these cute toppers.
Refreshments provided especially CAKE!
Book Your Space
We Create Bespoke Cakes!
We at The Outrageous Cake Company, live, breathe and eat cake.
No cake is too small or too outrageous for us .
Come to our shop in beautiful Monks Eleigh to order and design your cake.
And check out our range of Belgian Chocolates, Handmade Fudges, please check out our postal page also.
Please feel free to contact us either by coming to our shop at Bridge Farm Barns , Monks Eleigh, through our contact page or phone us on 01449 741208 or 07805808362
Contact Us